Edinburgh Bus Tours awarded five star status
July 9, 2013 by Phyllis Stephen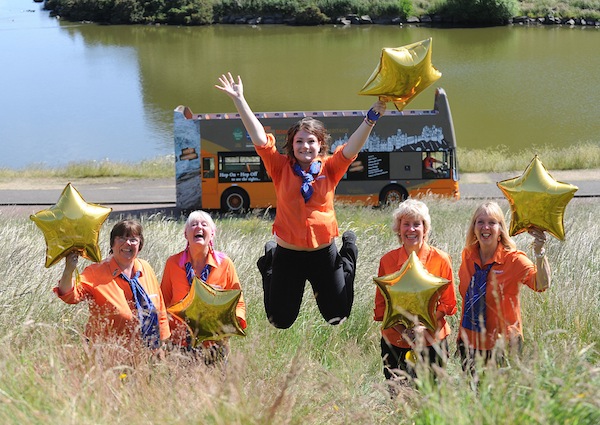 (L-R: Tour Guides: Sandra Daly, Margaret Anderson, Hannah Neal, Ros Newton & Joy Innes-Greig)
One of Edinburgh's most popular tourist attractions has retained its five star grading from Visit Scotland.
Edinburgh Bus Tours was first awarded five star status in October 2011. It has proved it has maintained VisitScotland's exceptional standards being awarded the highest grading possible once again.
VisitScotland uses a five-level star-grading system to indicate the standard of customer care and range of facilities on offer at assessed tourist attractions and establishments.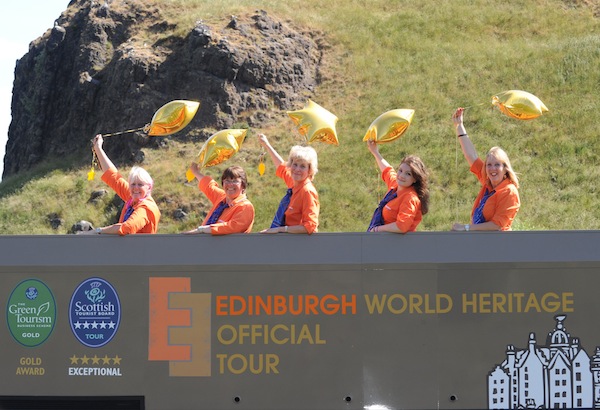 (L-R: Tour Guides: Margaret Anderson, Susan Daly, Ros Newton, Hannah Neal, & Joy Innes-Greig)
Edinburgh Bus Tours is now the third most popular paid for attraction in Scotland after Edinburgh Castle and Edinburgh Zoo. Last year over 500,000 visitors hopped on the tour buses, with more expected to take advantage of the six available tours this year.
Tim Armour, General Manager at Edinburgh Bus Tours, said: "We work hard to maintain the highest standards, and to ensure all our staff deliver a five star experience every time. This award is testament to the excellent customer service my team provides all year round. With dry weather and festival season round the corner, we're aiming to attract a record number of customers this year."
This year, Edinburgh Bus Tours launched of the new-look Edinburgh World Heritage Official Tour: A City of Contrasts in partnership with Edinburgh World Heritage. This earned a VisitScotland Regional Thistle Award in recognition of this successful partnership. The Horrible Histories commentary on board City Sightseeing was also re-launched to mark the 20th anniversary of the popular children's series.
Manuela Calchini, Regional Director for VisitScotland, said:- "I'd like to congratulate Edinburgh Bus Tours on retaining their 5 star status within our Quality Assurance scheme. This top level of grading is only awarded to the very best experiences which offer supreme levels of customer care and facilities, and to reach this for a third consecutive year is a remarkable achievement."
Edinburgh Bus Tours also received the Certificate of Excellence earlier this year from tourist review site Trip Advisor.